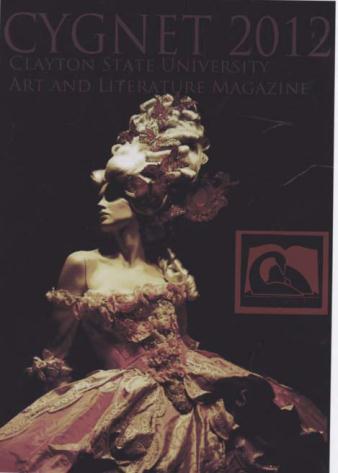 "I Love You, You're Perfect, Now Change" -
Brought to you by the Clayton State Theatre
by Maya Houston, Clayton State Theatre
Cygnet Schedules Annual Launch Party
"We say we love our mates, we say
that they are perfect and we wouldn't
change a thing about them, but how
many times have we nitpicked and
nagged them about their flaws in
hopes that they will change?" – Rineka
It's a musical! Clayton State
University does it again! The
University's talented Theatre majors
will be exploring love and relation-
ships and the cumbersome situations
that befall us as we move toward mar-
riage and managing the issues that
plague us on a daily basis.
Opening night for the spring produc-
tion of the Clayton State Theatre, "I
Love You, You're Perfect, Now
Change," is Thursday, Apr. 12, at 7:30
p.m. Opening night will also include a
talk back between the audience and the
cast members immediately following
the production. Show dates will continue
on Friday, Apr. 13 and Saturday, Apr. 14,
and concluding dates are Thursday, Apr.
19 and Friday Apr. 20, again at 7:30 p.m.
There will be a second talk back session
on Thursday Apr. 19, following that pro-
All productions will be held in the
Clayton State Theater, room 132 of the
University's Arts & Sciences Building.
Admission is free to all Clayton State stu-
dents and only $5 for non-students.
This musical is a must see! Check out
actors from Northern California to south-
east Atlanta, Augusta, Columbus, and
Morrow. You will laugh, relate and maybe
even find a way to get out of the rut you're
in once you recognize your love story on
The students are excited and satisfied with
the fun filled parts they are playing.
Anissa Matlock, an Augusta native,
says that although she is playing five
different characters, she is most like the
persona of "Julie," the awkward,
quirky, kind of nerdy girl who feels
blessed enough to have found someone
to appreciate those unique qualities and
likes her anyway. "These stories are
whimsical representations of real life
Colby Wilson (Atlanta), who will be
playing four different characters says,
"this hilarious production will reveal
what most of us secretly do and think
about when preparing to go on a date."
The cast is super excited and ready to
envelope you in laughter and engage
you in stimulating conversation!"
Robinson is showcasing five different
Clayton State University literary maga-
zine that highlights the literary and artistic
work of the student body, Cygnet, will
hold it's annual launch party on Thursday,
Apr. 19, at 7 p.m., in room 101 in the
The party will host around 30 people,
including Cygnet staff, writers who have
been published in this year's Cygnet and
invited friends. The media is invited to
The student editors of this year's Cygnet
include: Sebastian Lubbers (Lakeland, Fla.),
Jasmine Cason (Jonesboro), Christen Greene
(Savannah) and Gregory Kirk (Jonesboro).
"I've learned not to think that everything
is picture perfect as soon as I'm done with
it," says Lubbers of his experience as an
editor. "There was a lot more involved in
putting this together than I thought there
would be, and I just hope everyone enjoys
"A lot of work's gone into this, so, if stu-
dents aren't leaving campus with a copy in
their hands, I'm just going to start sneak-
ing them into people's book bags."
"Working with the Cygnet for 2012 has
been an awesome opportunity and adven-
ture," says Cason. "I always wanted to
own my own magazine; so this internship
has shown me all the steps involved
behind the scenes. It takes a lot of work,
but working with the staff, Sebastian,
Arts Page
Musical, cont'd., p. 10
Cygnet cont'd., p. 10